UTRR Hill climb series 2018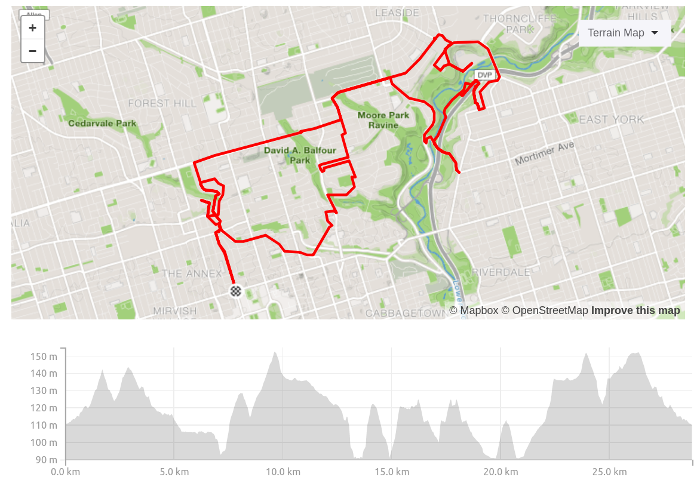 See on Strava
Race Ready - Preparation Guide for ECCC Road Racing
Marc-Antoine Beaudoin for University of Toronto Road Racing
Bike racing is definitely a lot of fun, but it involves more preparation than showing up to a Sunday ride. The winter is long and the racing season, very short. So you want to make sure that when you line up for a race, everything is set up for you to have a blast. This guide walks you through all the steps towards being ready for ECCC races. Note that training is intentionally excluded from this guide, as entire books are written on the subject. Instead, this guide focuses on the technicalities of road racing, along with a few general advices based on experience.
---
1. Licence
You need a licence to race in ECCC. You have two options: using a UCI licence, or buying 1-day licences.
Here in Canada, UCI licences are issued through provincial organisations. In Ontario, it's called the Ontario Cycling Association (OCA). The UCI racing licence is valid for a full year. It costs $158 and can be purchased here. The licence can be used to register to all races in the world, granted you are eligible to attend. This is the best option if you plan to attend several races this season. Here are some events happening in Ontario, Québec, the United-States, and of course, the ECCC series.
If you buy a license with OCA, you will be asked about your club affiliation. Note that UTRR is not an OCA affiliated club, so it does not show up in the choice list. You can simply buy the licence as an independent rider, if you do not have another club you are currently racing with. If you do join another club later in the season, and they ask you to affiliate your OCA licence with them, you can have your licence reissued for $10. If you currently race with another club, simply select that one when you buy the licence.
On the other hand, if you are not sure about how many races you will attend this year, then 1-day licenses are for you. You can purchase them for $10 (USD) the day of the event, or when registering online. The ECCC website says they cost $15, but it's actually $10 this year. Note that they are valid for one day only. This means that if you race on two consecutive days, you will have to buy two licences. Similarly, you can buy a 1-day licence for some of the races in Ontario as well, but not all of them. Consequently, not having an OCA license does not totally exclude you from racing later this summer.
If you look at the ECCC website, you may notice another type of license called a USAC Collegiate annual licence. This is not available to UTRR racers, because the club is not affiliated with USA Cycling. It is impossible for non-US based clubs to affiliate with USAC. Nonetheless, we are still invited to race in ECCC, granted we have UCI or 1-day licenses.
2. Categories
The ECCC races are divided into categories ranging from A to D, to Intro. This means you have a choice to make at the time of registration. This section of the guide will help you choosing.
First, I have to introduce racing licence categories. Simply put, your UCI license has a category associated with it. When you buy a licence with OCA, you are first given the Elite 4 category. As you win races and obtain sufficient points, you can upgrade you way up to the Elite 1 category. When you are exceptionally good, you get a Pro licence. For the USAC licences, it is similar. Categories range from Cat 5 to Cat 1 for men, and Cat 4 to Cat 1 for women.
When you race in Ontario, your race category is matched with your licence category. It is a way to ensure group uniformity. Similarly, USAC riders in the ECCC series are matched with the A-D categories according to their licence category, see Table 1. If you race in ECCC, you can get upgrade points for your Ontario category, just don't forget to bring the out-of-province results verification form!
Table 1. ECCC Categories Description
| | | | |
| --- | --- | --- | --- |
| ECCC | USAC Men | USAC Women | Description |
| A | P/1/2/3 | P/1/2/3 | For expert, veteran racers; often includes semi-pro and pro riders |
| B | 3/4 | 3/4 | For racers with a significant amount of experience and results |
| C | 4/5 | 4 | For newer riders who have done some racing or group riding |
| D | 5 | 4 | For new racers with enough riding experience to not require coaching |
| Intro | 5 | 4 | For beginners without racing or group riding experience |
However, since we do not hold USAC licences, we are not category matched the same way USAC riders are. This means you get to choose which category you want to race in. This also means you have to be smart. Racing in A if you have no racing experience is not smart.
I recommend treating you UCI category as a USAC category, and choosing your race accordingly. You must register the same category for all races in a weekend. Since teamwork can help getting race results, we may also discuss about regrouping riders of similar strength.
If your buy 1-day licenses, you are restricted to the D and Intro categories.
For the Team Time Trial events, teams can be composed of riders from different categories. The team category is determined by the highest individual category amongst the riders composing the team. Teams of category D to B are composed of 2 to 4 riders. The time stops after the front wheel of the 2nd rider crosses the finish line. For A teams, the finish time is determined by the 3rd rider, so A teams must have 3 to 4 riders.
3. Registration and Check-in
You have two options for race registration: online pre-registration and day-of registration.\
Online pre-registration is the easiest option. You can find links to the registration website for each event in the ECCC Race Calendar. When you pre-register, you will be asked to provide your UCI licence number. Alternatively, you will also be given the option to purchase a 1-day licence. Remember, that this is only an option if you register to the D and Intro categories. There might also be non-letters USAC categories as well, such as "USAC Men 3/4 CR" for instance. Do not register to those, they are for the general public, i.e. non-collegiate racers. Instead, register to the letter categories, such as "Men B CR" in this case. You will also have to pay the registration fee, along with the 1-day licence if you need one. This is practical, as you won't have to handle money the day of the event, and it expedites things up a little bit.
The online pre-registration system typically closes on the Thursday before the event. If you missed it, you can still register the day of the event. Note that for most races, there is an additional $5 cost for day-of registration. You will have to pay cash (USD).
The cost for each race type is fixed for the all the races in the season, see Table 2.
Table 2. ECCC Race cost
| | |
| --- | --- |
| Race type | Cost (USD) |
| Individual Time Trial | $10 |
| Team Time Trial | $25 |
| Criterium | $20 |
| Circuit Race | $20 |
| Road Race | $25 |
Regardless of how you register to the race, you will also have to check-in. This is when you show your UCI or day-of licence, sign waivers, and receive your race numbers. The check-in booth typically opens an hour before the start of the first race of the day. If you bought a UCI licence with OCA and did not receive the physical licence by the mail yet, you can show the confirmation email from OCA that shows your licence and UCI number.
4. Insurance
Getting a proper health insurance is your own individual responsibility. Accidents happen, unfortunately, and you have to be prepared in case you get injured. UTRR will not cover your medical expenses, nor will the University of Toronto. You have to verify that your insurance covers you when: 1) you are traveling in the United-States, and 2) you are racing a bicycle.
If you are a Canadian citizen, you probably know that your provincial insurance is very limited when traveling outside of Canada. And typical travel insurances will not cover bicycle races. Similarly for international students, UHIP will not cover much when traveling outside of Canada.
The UTSU/UTGSU health and dental plan includes travel insurance. You can find more information about those plans on the Studentcare website. I read the fine prints of the travel insurance and it seems that injuries resulting from bicycle racing are not excluded from the coverage. However you may want to judge it yourself, as getting a proper coverage is ultimately your own individual responsibility. Also, make sure you are actually covered by the plan in the first place. For instance, you may have opted out. If you decide to rely on this coverage and an accident happen, you have to contact CanAssistance prior to receiving any treatment. The telephone number is 1-866-601-2583, and the policy number is 97180. You can print the Travel Health Passport if you wish.
Alternatively, if you are an OCA member, you can buy Excess Travel Medical insurance through Cycling Canada. This plan is specifically designed to cover you during international races.
5. Doping
Do not dope. That's simple. Just don't.
But also, do not dope unintentionally. Let me explain. When you get a UCI license, you submit yourself to the UCI antidoping regulations. Moreover, when you take part in a ECCC race, you also submit yourself to the US Anti-Doping Agency rules as well. Those agencies both use the WADA Prohibited List. This list contains substances and other doping methods that are either prohibited at all time, or during competitions only. That means you can be tested for those substances during competitions, or even at home at any given time of the year. Is this going to happen? Probably not. But it's not impossible, so it's worth knowing more about it.
If you take a prescription drug, you should check the list. If your drug is on the list, don't worry. There is something called Therapeutic Use Exemption, and you can probably get away with it. Also, some substances are prohibited only when administered in a certain way. Glucocorticoids are a good example: asthma inhalers are ok, but intravenous injection is prohibited.
It is actually the non-prescription drugs that require more precaution. For instance, some cold and flu products contain stimulants that are prohibited during competitions. Marijuana is also prohibited during competitions. Note that it is rather unclear how long after consumption marijuana can still be detected in urine. You should also be careful if you take sketchy dietary supplements, because who knows what's in there.
In case you wondered, caffeine is fine. Acetaminophen (Tylenol) and ibuprofen (Advil/Motrin) are also allowed. If you want to know more, there is the UCI Rules and Procedures and the USADA Athlete Guide.
6. Race Rules
When you race in ECCC, you must abide by the USAC Collegiate Cycling Rules, the USAC Rule Book, and ultimately, all sorts of UCI Rules and Regulations. Fortunately, the ECCC organisation outlines the key regulations on their Races and Rules webpage, which includes the USAC Road Rules Summary. Now I want to bring your attention to a few of those rules.
You must be a full-time student at the University of Toronto. You must race with your UTRR kit. If you don't have one, you must wear a "blank" kit. That means you cannot wear a kit from another cycling club, or any pro replica team kit. You must wear a helmet when riding your bicycle, even when you're not racing.
If you get dropped from the peloton, keep racing. You will probably form a grupetto, and maybe even catch the main peloton later. You may however be pulled out of the course by an official, that's when you have to stop. But if you really want to quit the race before getting pulled out, you have to report yourself to an official. You can always find one at the starting line. Some race courses have multiple laps of the same road segment. If you get lapped by a group of riders, you cannot work with them. Also, different categories can race on the course at the same time. You cannot work with a group from another category.
Some course sections will be partially closed to traffic and others, fully closed. On partially closed sections, the yellow line rule is always in effect. That means you have to stay on the right hand side of the yellow line. If you get caught, you can be disqualified pretty quickly.
If you suffer from a mishap, e.g. a flat tire or a light crash, and manage to recover quickly enough, you can return to the race. Note that changing a tube yourself may not qualify for what I mean by "quickly enough". I'm talking about changing a wheel, if you can get your hand on a spare wheel shortly after the flat happened. In criteriums, you can even get a free lap or two.
Only mass-start legal equipment is allowed on all ECCC events, even time trials. That means aero equipment is forbidden, e.g. aero bars, TT frame, tri-spoke wheels, and disc wheels.
In addition to the previously mentioned regulations, each event has its own specific set of rules. They are presented in what is called a technical guide, or a race flyer. You should make sure to read them a few days before the event, as it will help you prepare for the race. In those documents, you can find information about which sections of the course have full or partial road closure. You also get to know when and where feeding is allowed on the course. Feeding is when a teammate standing beside the race course gives you a water bottle or some food. Neutral feed refers to volunteers giving water to anybody. There is no feed for time trial and criterium events. The technical guides also tell you how you must place your numbers on the back of your jersey. Finally, you get to know if there is a spare wheel system in place.
7. Bike Preparation
You want to minimize the risk of a mechanical failure, so you must prepare your bike carefully prior to a racing event. Our sponsor Bike Depot can help you with this, and get you sweet deals for spare parts. There is also Bike Chain if you want help on campus.
A week before the race, I recommend checking that your tyres, chain, cassette, and brake pads are not worn out. Also, make sure your gears shift properly. If your chain has a tendency to easily fall off, your limit screws probably need adjustment. You want to leave enough time for the bike shop to do the tune up.
On race day, pump up your tyres and lube your chain. That's all you should have to do. And please, make yourself the pleasure to remove this dang saddlebag. As mentioned earlier, you shouldn't have time to change a flat tyre. If that happens and you can't get a spare wheel, just wait for the free car ride.
8. Leg Preparation
You want to show up to the races with your legs well rested. But you also want to avoid losing fitness by resting too much. There is a widely adopted formula that aims at optimising your leg preparation.
If you are coming out of an intense training block, you should reduce your training load during the week leading to a race. Two days before the race, you want to rest completely. The day before, you go for an hour long, low intensity ride in which you incorporate a set of leg openers. This means you do 4 x 45s efforts, with 90s of rest in between.
On the day of the event, you want to warm up before the race starts. A good warmup routine consists of 20-30mins of constant and moderate intensity riding. You should feel your heart pumping and start sweating a bit, but you do not want to feel your legs burning. You can also include a few short intervals of high cadence pedaling, to "wake up" your legs a little bit. Then you line up on the starting line 10-15 minutes before the start. Longer than that, you may cool down and/or stress too much.
If you race on several consecutive weekends, the key is to rest on Mondays, train on Tuesdays and Wednesdays, then repeat the two day race preparation routine.
Speaking of legs… hum, shaving. I am not going to tell you what to do with your beloved body hair. But as an experienced racer, it is my responsibility to let you know that the general consensus in the racing community is that legs should be shaved. Now you do what you want.
9. Food
Food intake is critical in road racing and also requires a bit of preparation. I found excellent articles for what to eat before, during, and after cycling. There is another one specifically on carbo-loading. Those short articles cover everything you need to know about fueling for a race.
In a nutshell, you should eat a high amount of carbohydrate in the two days leading to a race, 10g per kg of body mass is a good target. You should eat carbohydrates that release slowly, such as rice and whole wheat pasta. For races shorter than an hour, you do not need to fuel during the race. A small amount of energy drink may help, but nothing more than that. For longer rides, you want to eat 30-60g of fast carbohydrate, e.g. energy drinks, gels, or bars. You also need to stay properly hydrated, for which you can rely on drinks containing electrolytes. For a better recovery, you should eat a combination of carbohydrate and approximately 20g of protein within the first hour after the race.
Every stomach is different. You want to figure out which products work best for you. But here are some general guidelines that seem to apply to most of the cyclists I know. Skratch Labs Hydration Mix does not cause upset stomach like Gatorade do. Bars containing a lot of nuts should be avoided for racing, as they are hard to digest and can make you feel bad. Clif Bars are very popular among cyclists. Gels are generally appreciated too, especially when taken altogether with a few sips of water. Although some people really dislike them. So if you plan on using gels, you should try them in a training ride beforehand.
My personal advice would be not to alter your regular diet too much. Sudden changes in eating habits are not recommended. For instance, you do not want to overstuff yourself the morning of a race. You will feel uncomfortable, it won't necessarily give you that much more energy, and it can actually impair your performance.
If your race has an early start, make sure you have enough time to eat, drink your coffee, and proceed to your natural morning duties before the race. Also, do not drink too much. You do not want to feel like you have to go when you're on the bike. If you really need to, you can always do that. But believe me, it's harder than it looks.
10. Race Strategy
Racing also involves some mental preparation. The evening before the event, it is important that you visualize the course of the race. You should pay attention to the location and the category of the climbs, as they are key elements to racing strategy. Strava can help you with this. Also, you want to visualize the type of effort you will be doing, and think about how much food you need to bring. Check the weather forecast for a heads up. Strong winds can also be a game changer. Arrange your feeds. Finally, you can discuss about racing strategy with your teammates.
11. Check List
Bicycle
Spare wheels (really?)
Cyclocomputer
Helmet
Shoes
Glasses
UTRR Race Kit
UTRR Jacket
Socks
HR Strap
Chamois cream
Gloves
Cold gears

Gloves
Shoe covers
Arm warmers
Leg warmers
Base Layers
Water bottles
Energy drink
Bars & gels
Stuff you bring for the team

Bicycle pump
Tools
Spare tube
Chain lube
Food
Personal hygiene

Sunscreen
Deodorant
Toothbrush
Toothpaste
Soap/Shampoo
Printed info

This guide
Race technical guide
Itineary
Ontario Upgrade Points System
From the OCA's website.
Upgrade points will be awarded at all Ontario based regional and Ontario Cup races running standard ability based categories. Any Provincial Championships running ability based categories will also have upgrade points available. Upgrade points will be awarded for all categories based on field size. Points will also be awarded on the basis of any combined field sizes so if multiple categories are combined to make the field, points will not be broken out by category placing but rather placing in that combined field.
Riders may upgrade at 25 points (Must upgrade at end of season regardless) and will be automatically upgraded once they have 40 points or more.
| | | | |
| --- | --- | --- | --- |
| Field Size of 41+ riders (Not including DNS) | Field Size of 30-40 riders (Not Including DNS) | Field Size of 15-29 riders (Not Including DNS) | Field Size of less than 15 riders (Not Including DNS) |
| 1st  place – 20 points | 1st  place – 17 points | 1st  place – 15 points | 1st place – 11 points |
| 2nd  place – 17 points | 2nd  place – 15 points | 2nd  place – 13 points | 2nd place – 9 points |
| 3rd  place – 15 points | 3rd  place – 13 points | 3rd  place – 11 points | 3rd place – 7 points |
| 4th  place – 13 points | 4th  place – 11 points | 4th  place – 9 points | 4th place – 5 points |
| 5th  place – 11 points | 5th  place – 10 points | 5th  place – 7 points | 5th place – 3 points |
| 6th  place – 10 points | 6th  place – 9 points | 6th  place – 5 points | |
| 7th  place – 9 points | 7th  place – 8 points | 7th  place – 4 points | |
| 8th  place – 8 points | 8th  place – 7 points | 8th  place – 3 points | |
| 9th  place – 7 points | 9th  place – 6 points | 9th  place – 2 points | |
| 10th  place – 6 points | 10th  place – 5 points | 10th  place – 1 points | |
| 11th  place – 5 points | 11th  place – 4 points | | |
| 12th  place – 4 points | 12th  place – 3 points | | |
| 13th  place – 3 points | 13th  place – 2 points | | |
| 14th  place – 2 points | 14th  place – 1 point | | |
| 15th -20th  place – 1 point | 15th  place – 1 point | | |
Various forms you might need
Various documents if you're racing in Ontario. If you're racing out of Ontario but you still want to have some upgrade points, there's a form for that. If you want to upgrade, but you don't have enough points and you think you deserve to upgrade, there's a form for that. Send you requests to support@ontariocycling.org.
Out-of-province results verification form Adult upgrade/downgrade request form
Ride Guidelines
We want every participant of our events to enjoy their ride safely. This means setting some guidelines that should be known before taking part in any of our rides. Guidelines should be followed closely at all time. If there are any concerns about them, feel free to contact us or ask us about them before the start of the ride.
Risk management plan
Cycling can be a dangerous activity. University of Toronto Road Racing (UTRR) has developed this Risk Management Plan to document how UTRR rides are to be managed to reduce risks associated with cycling activities. These policies are to be practiced by UTRR members, and any permitted visiting riders as permitted by Ontario Cycling Association rules, during every UTRR ride. All UTRR members, and any permitted visiting riders, share the responsibility for making UTRR rides as safe as possible.
UTRR Student Club Constitution
UTRR's mission is to build a more inclusive and diverse road cycling community at and around the University of Toronto. We specialize in road cycling and our membership ranges from riders just beginning to take cycling seriously alongside experienced and elite racers. Though our emphasis is on giving every student the opportunity to pursue their goals in the sport, our membership is open to all members of the public. We compete in both collegiate and local races and also host regular social and training rides.