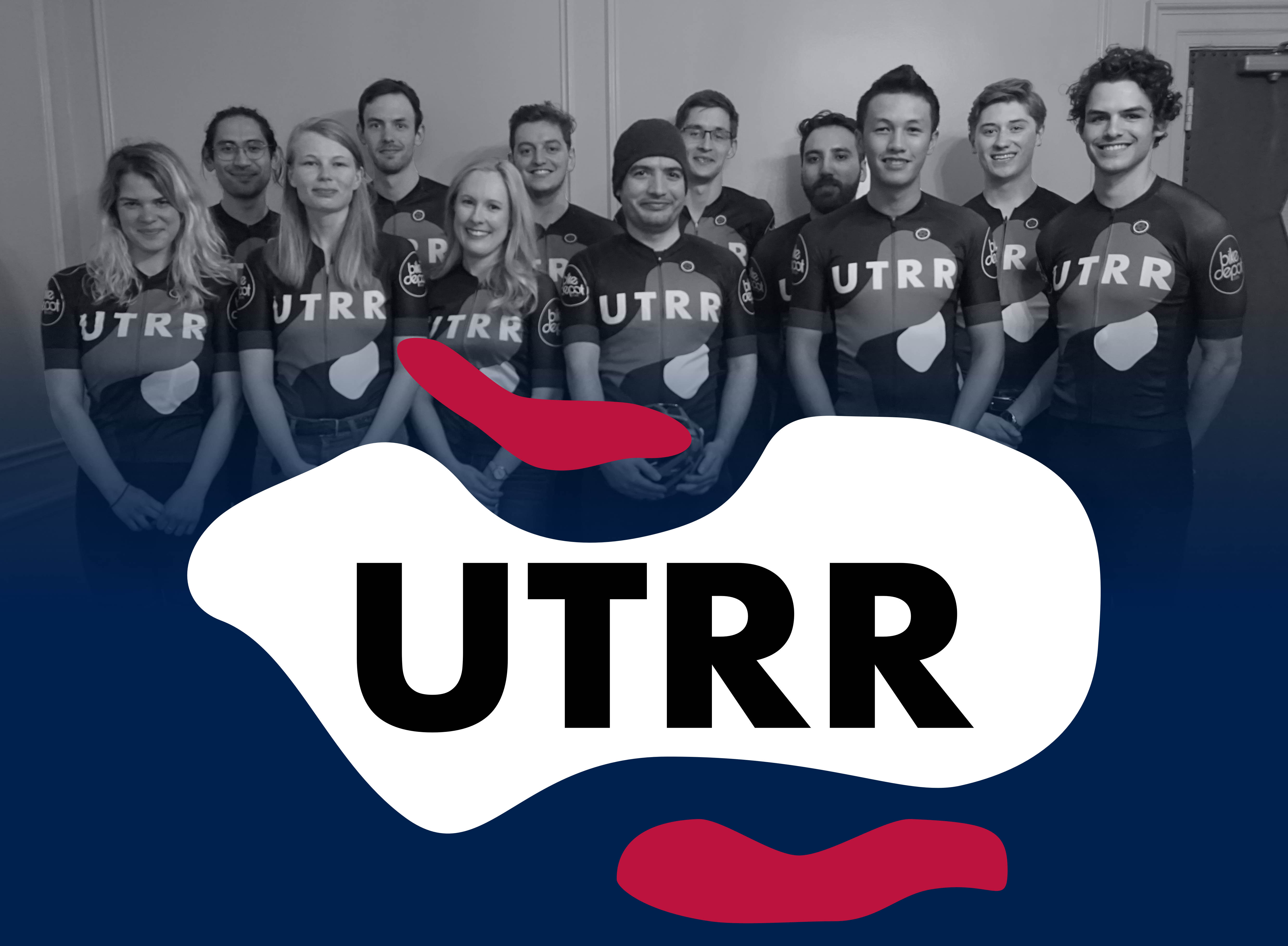 What is the University of Toronto Road Racing Club?
The University of Toronto Road Racing Club ("UTRR") was founded as a recognized student association at the University of Toronto in Fall 2016. In 2019 we became officially affiliated with the Ontario Cycling Association (OCA). Our goals are to: 1) build a more inclusive and diverse road cycling community around U of T and the Toronto area, and 2) help make competitive cycling more accessible to students.
Who can join?
Anyone with a bike and the desire to ride! As an OCA club, membership is open to the general public. Current full-time students (at any level) are also welcome to race with us in the Eastern Collegiate Cycling Conference (ECCC) race season held in the Northeastern United States each Spring.
What is the training schedule?
In addition to our weekly scheduled rides we also organize longer weekend rides and participate in various OCA sanctioned events together (e.g. Midweek Cycling Club Learn-To-Race and Tuesday Criteriums, and Ontario Cup races). We also have an active community of members who organize other rides and social events, and train/ride together.
When and where will we race?
We have been invited to race in the Eastern Collegiate Cycling Conference. To have an idea of when we will race, have a look at this year's schedule here. We race against schools from the Northeast of the US (e.g. Harvard, MIT, Columbia, Penn State, Duke) as well as fellow Canadians from McGill and Queens. All club members are eligible to race in sanctioned OCA events such as the Ontario Cup race calendar and MWCC Tuesday Night Criteriums. We strongly recommend gaining experience through a learn-to-race or development program (and competitive group rides) prior to racing as it does take a considerable degree of skill and fitness, and does entail significant risks. We're here to develop our skills as a team, and we want to make sure that we all stay safe and have fun.
What if I don't want to race?
There's no expectation that members race and you are welcome to train with us and join our social rides! We ride bikes for fun! Racing just provides a venue for greater participation in the sport and greater incentive for personal skill and fitness development.
Is it expensive?
Cycling is an expensive sport, but we are working to develop partnerships and find sponsors who can help make this as affordable as possible for students who are on a limited budget. We are typically able to subsidize the costs of transportation and registration for several races each year, but you will need your own bicycle and personal equipment (e.g. helmet, kit, etc). Our generous sponsors do however offer some extra discounts for members of our race team.
Do you have more questions?
Feel free to contact us at utrr@utoronto.ca or reach out to us on Instagram or Facebook.
Join us!
The Exec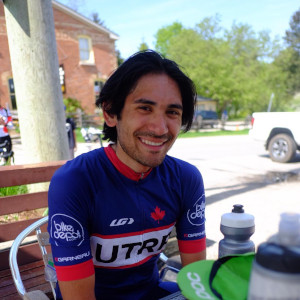 Boris Dyakov / President
I'm a PhD candidate in Molecular Genetics, and I use cycling as a competitive outlet, a way to stay healthy, and a means for making myself a faster commuter. In 2016 I built up my first road bike and entered into the inaugural Ossington Crit. After crashing on the first lap, not knowing about free laps, and then getting lapped, I vowed to become a better racer. A UTRR member since the beginning, I now work to grow the club and to keep things rolling.
Favourite piece of kit:
Shimano S-Phyre gloves (which I lost - anyone have another summer glove with no padding that they can recommend??)
First road bike:
2010 BMC Racemaster SLX01, a size too small for me, that I built up with a full 5800 group.
Favourite post-ride snack:
Charcuterie, of course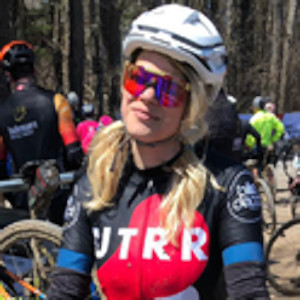 Lily Hansen-Gillis / Communication & Events
I studied cognitive science at U of T. During my degree I bought a fixed gear to commute on. I still love that bike but after attempting to ride to Stouffville and back on it and legitimately thinking I was going to die I decided it was time for a road bike. I figured it would be good for going on the occasional ride with my partner. Fast forward a few years later and I'm working at Canadian Cycling Magazine and as an exec in this club. Clearly I underestimated how addictive this sport is!
Favourite piece of gear:
This one specific sports bra that's perfect for riding.
First road bike:
My bike is dumb small lmao but I love it. It's a KHS flite 720 featuring the longest stem I could find.
Goals for this year:
I'm super committed to getting marginalized communities involved in cycling and hope to hold more inclusive events this year!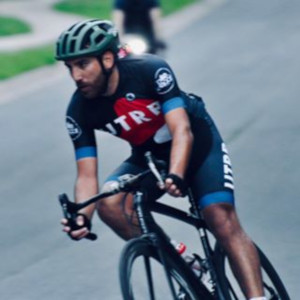 Rolando Campusano / Treasurer
I'm a fifth year PhD Student in Economic Analysis and Policy from Chile. Before moving to Canada I was an avid commuter and would do some downhill mountain biking when I was not jumping from one sport to another without putting much commitment to any of them. Joining UTRR allowed me to get first hand experience on competitive camaraderie (and the "high") you get from a fast-paced group ride. From that to racing it was just one step. Well...many small-painful-but-rewarding steps.
Favourite piece of gear:
windproof gloves and bib tights...it's cold out there!
First road bike:
I joined UTRR without having a bike. A former UTRR member Marc-Antoine Beaudoin sold me his 2014 Trek Madone 3.1 at a ridiculous price and it was awesome :).
Favourite post-ride snack:
Coffee and/or Beer, if this doesn't count as a snack, a warm scone or a croissant.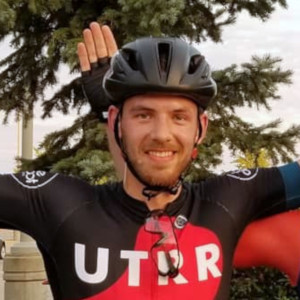 Victor Nicolet / Webmaster
I'm a third year PhD student in Computer Science from France. Coming from a running (and a little mountain biking) background, I started riding my road bike more often than thumping my legs inefficiently on the ground about three years ago. Since then, I have been spending more and more time on the bike and started racing in 2019, my first road race being the Philly Phlyer in March. I maintain the UTRR website, among other things.
Favourite piece of gear:
a skinsuit. Nothing more comfortable than a tight fitting one piece garment right?
First road bike:
BTwin Triban 500, Sora 3x9. And still my road bike at home.
Favourite post-ride snack:
I wish they had raclette.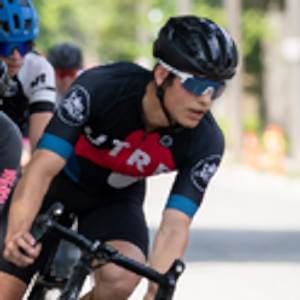 David Bertozzi / Sponsors & mentorship
At 17 I worked in a bike shop and was hucking backflips on the trails I built in my backyard. Since finishing Mechanical Engineering at U of T I've designed bikes and components at a small consulting company in Toronto. After several years of riding my bike indoors while training for triathlons I ran into Boris on a group ride and who easily convinced me to stop swimming and running and join UTRR. I help the club with bike tech advice, finding sponsorship, and try to provide resources to new riders who are excited to learn about cycling.
Favourite source of cycling humor:
cranky cyclists on group rides.
Favourite piece of gear:
my first high-end groupset.
First road bike:
Raleigh Grand Prix.
Favourite post-ride snack:
croissant and espresso.
Janssen Woo / Logistics
I'm a fifth year undergrad studying Urban Planning from Hong Kong. I started cycling with a little bit of running and a rowing background. I started cycling by commuting on bikes since I moved here, and in my second year, I wanted to be more serious with it and bought my first road bike. I have been with the team for three years and my second year was by far the most committed and devoted I was. I have raced three years of ECCC and raced O-cups in 2018, and a handful of Midweek crits. I have been slacking off this year because of work commitments but I am ready to gear up for a comeback next year (hopefully). I am most active during racing seasons for the team as I help organize race weekends. Also if there are gear or tech questions feel free to ask me! If you are contemplating about joining the team or start cycling, you should just try it out, speaking from personal experience, it is totally rewarding and give lots of sense of accomplishment.
Favourite piece of gear:
sunglasses (Oakleys or 100%), who doesn't like free speed!!
First road bike:
Cervelo R2 2016 with 105 group and stock wheels. Had an unfortunate end to the bike in half a year, but was one of the fastest bikes I owned!
Favourite post-ride snack:
A coffee, a protein bar or any form of carbs (not really snack but thats a lot of what I eat).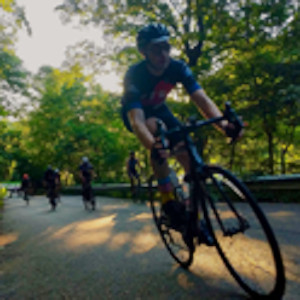 Andrew Ward / Services
I'm a second year Medical Student with a relatively short background in cycling but I can safely say it has won my heart. I played many sports growing up but settled on competitive swimming and waterpolo which I continued throughout my undergrad. I bought a bike in 2018 and traded-in staring at the black line on the bottom of the pool for the beautiful scenery of the open road. You will find me gearing up for my first full race season with UTRR and shouting (in the most friendly way possible) at our Tuesday Core Sessions.
Favourite piece of gear:
Bottles! I have been known to sweat more than the average person.
First road bike:
Specialized Allez Claris. Was looking for a commuter, instead opened the wardrobe to Narnia.
Favourite post-ride snack:
Cortado +/- something with Chocolate.