First three OCups of the 2019 season
With the season well under way, we wanted to look back at UTRR's first races in Ontario this season. We've been able to proudly show our stylish new kit at the first three O-Cups of the seasons: the Mosport Classic, the Calabogie Classic and the Ontario Police College Criterium (OPC Crit).
Surprisingly, we had the biggest numbers and the best organized team for the first, coldest, and wettest race in 2019 so far. We headed to the Canadian Tire Motorsport Park (near Bowmanville) with four riders in men's Elite 4 (Rolando, Sacha, Boris and Victor), one in women's Elite 3 (Lily), and even a photographer (Janssen). Bike Depot lent us a tent for the race, and some of us even brought trainers - we were ready. What we were not ready for was the awful weather that welcomed us. Rain, wind, a few degrees above zero, and the necessity of being aero and competitive makes for a bad mix. After a short 20 min warmup, we all lined up for the 9:00 am start. Adding to the foul conditions, Lily was feeling sick and had to abandon her race early on.
In the men's E4 race, we had a solo flyer attack very early, but he would be kept in check by the peloton and pulled back on the second lap. After a short respite, Victor attacked on the short climb and the headwind to make a small gap on the pack. Alex Vanderlinden (of Faction-Smile Tiger p/b WCC) joined him a little later to make the final composition of a break that would last until the end of the race. Without a chase from the peloton, the break only gained time and finished without too much pressure with Victor finishing ahead of his breakaway companion. Boris sprinted in the bunch for 9th, a second top-ten in a week after a Midweek crit late race result. Sadly Sacha and Rolando couldn't finish the race, having been dropped earlier on. This race was as much a race against the conditions as a race against others.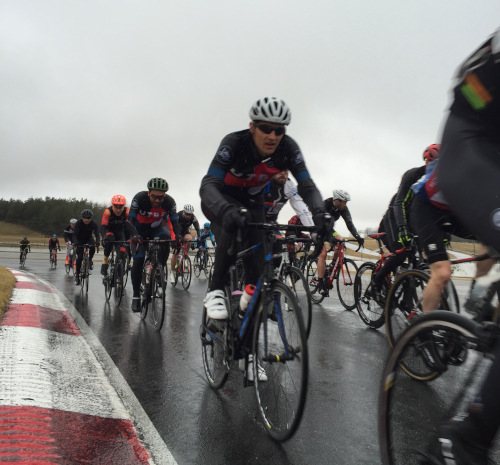 Sacha and Rolo in the pack
A week later, we headed to Calabogie for another race on a motorsport track, hoping for some dry tarmac. The weather seemed only slightly more cooperative this time, with a forecasted clear sky but a cold morning. David, Victor and Boris lined up for the men's E4 race. The start was at 9:30am, just after the men's M3 race. By then, the sun had showed up and despite some wind, the race promised to be more enjoyable than Mosport classic. Everyone was probably feeling better, and attacks were flying for the first half of the race, but none of them were organized enough to stay away. With about five and a half laps to go, Victor attacked again and managed to hold a dangerously small gap ahead of a pack that wasn't ready to work together to pull him back. He held this gap for a first-place finish, 7 seconds ahead of the main field! Boris sprinted for 6th, and David pulled off a great12th place finish in his first ever road race!
Things were finally warming up for O-Cup #3: the OPC Crit. The same squad from Calabogie made it to represent UTRR. The course was shorter than the two previous ones, and also more technical, which meant riders would actually have to use their brakes (unlike the two races before). Boris and David were starting very early in men's E4 - at 8:30am, Victor would take part in the men's E3 race later at 10:30am. In the first race, despite a few breakaway attempts, everything finished in a bunch sprint. Boris came 5th for his best place this year, and David finished in 15th to grab an upgrade point. A large and unsafe pack started in E3, but after two scouting laps, Victor attacked with a junior rider in his wheel. The break's chances were slim at first, but they were later joined by two other riders (Oliver Campbell from Midweek and Carson Mattern from NCCH). The group of three dropped the first junior to work together until the end of the race. Oliver came first with a long and powerful sprint, an inch ahead of Victor with Carson in third place.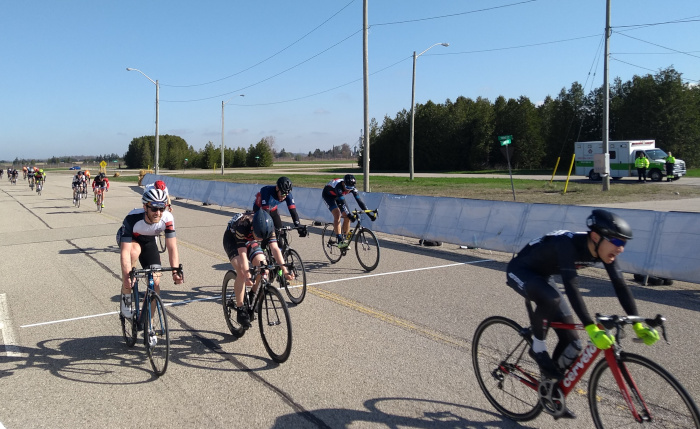 Boris sprints for 5th
This was a fun race with technical but not-too-sharp corners and long straight sections to gain speed. We even stayed for a post-race ride to enjoy the weather and the countryside roads!